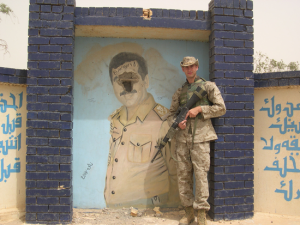 Camaraderie and creativity in civilian life.
Thank you to all who supported this session of the 33rd Boro Platoon in Spring 2016.
Jeff Rutherford is a Marine, a Veteran of the Iraq War, and glass artist. He's the founder of the 33rd Boro Platoon Program.
He discovered torchworking through a SGS program with Pima Community College after returning from service in the Middle East. After a rocky reintroduction to civilian life, he found new ways to express himself–and life-changing opportunities–through torchworking.
"When I first got back it was so intense I couldn't work. I couldn't be in public places without having panic attacks and flashbacks. I never talked about it. I just bottled it up inside. But then I started torching and blowing glass, and over years of hard work and lots of frustration my PTSD has gotten better. Glassblowing has saved my life."
Jeff found the process of deconstructing something rigid into something beautiful helped him express himself and refocus on civilian life. He was able to afford his education thanks to the GI Bill.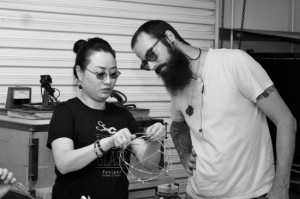 And when people started recognizing and purchasing his work (enough sometimes to where he needed an assistant just to keep up) he experienced a renewed sense of calm and purpose.
Jeff Rutherford now hopes torchworking does the same for some of his fellow vets. That's what the 33rd Boro Platoon program is all about.
Make Jeff's Mission a Reality
Your donation directly funds a vet to participate in the 33rd Boro Platoon Program. Our goal is to offer this program completely free of charge to 6 returning men and women in uniform. In order to do that, we need $800 per veteran ($100 for every week of the program).
About the Instructor
Rutherford believes there's a therapeutic nature to working with glass and a need for other types of therapy beyond round table support groups. Jeff has decided to teach glass art classes exclusively for veterans adjusting to civilian life.
The first class was offered at Sonoran Glass School starting Sunday September 7, from 8 a.m.-12 p.m. It was an eight-week program that took place once a week on Sundays.