Tell us about your experience! Email info@sonoranglass.org to write a review or visit the SGS Facebook Review Page to post one.
---
Dear SGS,
I just wanted to thank you and your team again for fitting our family in to make the vase on Saturday, February 21st.
  It was so much fun for us all, one of the best things we did on our road trip from Houston to San Diego.The vase looks amazing  (I have included a photo)…it's a unique opportunity for the entire family to work together (not compete) and also make something beautiful and learn a great deal (suburban moms would love that idea).   We all had fun– and neither my husband nor my seven year old son were bored, which is a great thing!   Anyway, take care and thanks!
  -Seamae
---
  Thank you so much for the amazing introduction to glass. A superb experience!   -Libby (Facebook fan)  
---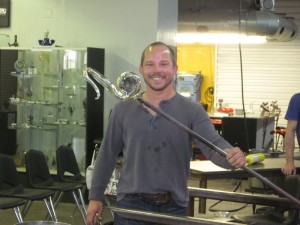 John-Peter,
Your tour of the facility was just great.  My wife and I really enjoyed going through your facility and watching your guys make glass musical notes. The next time we are in your area, we will make a reservation to test our skills!
---
Took a two day beginning glass blowing class. Came from Flagstaff. Very worth the time money and trek south.
  Awesome instructors Paul and Rachel. Very patient and completely knowledgeable. I felt very safe attempting this very dangerous medium because of Paul and his point on instruction. Beautiful studio. Very professional and all around a perfect trip!   I am grateful for every part of this wonderful experience. I plan to continue my work in glass because of how awesome this was! Thanks guys!   -Angela P  
---
Wanted to say how amazing everyone there was for my sons visit with GATE class yesterday! Erica and Michael were so wonderful with the kids and we all had so much fun! Thank you so much for providing such a unique and inspiring space with some top notch people!!!
  -Daniel R. (Facebook fan)    
---
To Sonoran Glass School: Today I took my granddaughter to your school and found that I had misunderstood the Wednesday Warm Class thinking it was a beginner's class. Although there were no classes today, John-Peter the director allowed Elizabeth and I to create a small project. His kindness will be long appreciated.
Elizabeth is visiting from Denver and wanted to make a present for her mother for a surprise. What a wonderful center with wonderful people who work there and clearly value the people they serve.
Sincerely, Grandma Sara
---
See more reviews at https://www.facebook.com/SonoranGlass?sk=reviews