December 4
4-6 p.m.
At Downtown Kitchen + Cocktails
135 S 6th Ave, Tucson, AZ 85701
ALL gratuities support Sonoran Glass School!
Prominent glass artists and advocates Michael Joplin (brother of musician Janis Joplin), Nan Charif and John-Peter Wilhite are bartending during Happy Hour from 4 to 6 p.m. on December 4, 2014 at DOWNTOWN Kitchen + Cocktails. During this time 100% of all guest gratuities support Sonoran Glass School and its educational programs.

All happy hour guests enjoy half price draft beers, selected cocktails for $4.50 and select brands of wine by-the-glass for $5, as well as significantly discounted bar food.
---
About Michael Joplin, Vice President, Sonoran Glass School Board of Directors – Joplin is a candid advocate for Sonoran Glass School and has studied the craft of glass art since 1972 under prominent names like Mark Peiser, Klaus Moje, Dale Chihuly, Fritz Dreisbach, Jack Shmidt, Ann Wärff, William Bernstein and others. In 2002 he was an instrumental part of getting Sonoran Glass School open and running and he has been on the board since its inception. Michael has sold work in hundreds of galleries and his work is found in a wide variety of institutions and collections. He has also been heavily involved in theater production, with two plays that have been traveling nationwide and Europe for over a decade. He is also currently working on a women's clothing line named Made For Pearl.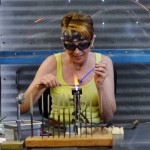 About Nan Charif, SGS Torchworking Instructor and Artist- Nan is a member of the International Society of Glass Beadmakers and her work's been published in glass art publications like Lammaga in Japan and The Flow Glass Art Quarterly here in the states. Nan became obsessed with glass art after her very first lesson. She started collecting beads and stringing them together 30 years ago, and her desire to create her own intricate beads drew her to making glass beads at a torch. She's studied under the likes of Margaret Zinser, Bronwen Heilman, and Bandu Dunhum.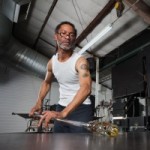 About John-Peter Wilhite, SGS Director of Development & Operations – John-Peter's passion for art was enhanced while he attended Pratt Institute in Brooklyn, NY where he received his BFA. John-Peter completed his M.A. at Texas State University in San Marcos, Texas. He began collecting glass over 30 years ago and became an SGS Board Member in 2008. After serving in pivotal roles for several non-profits, including Native Seeds, John-Peter now leads all SGS staff operations and fosters fundraising sources to secure Sonoran Glass School's financial future.