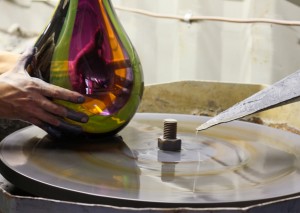 Our Cold Shop features an upright grinder, grinding lathe, bench grinder, three 24″ grinding wheels, one 8″ grinding wheel, three wet saws, ring saws, large sandblaster, and small engraving tools.
Rental Rates:
MEMBERS: $15/ HOUR
NON-MEMBERS: $20/ HOUR
Please respect this studio
---
SAFETY
Safety glasses MUST be worn at all times.
Ear protection and respirators are highly recommended.
CLEAN UP
You are REQUIRED to clean up after yourself.
You may be subject to a $25 cleaning fee if you leave a mess.
Clean up debris and return all tools/supplies to proper locations.
DAMAGE TO EQUIPMENT
Renters are charged for any damaged or broken equipment resulting from improper/careless equipment use.
Notify SGS Staff if there is a problem with any equipment.

You will not be liable for damage from regular wear and tear.

Never try to fix damaged equipment yourself.
Do not use machines that are working improperly.

You might injure yourself or damage equipment.
DRAINAGE
Make sure equipment is draining properly before use.