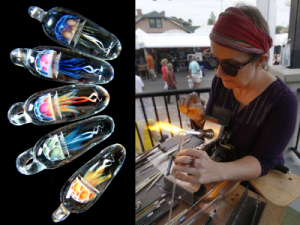 Friday
March 20, 2015
6:00 p.m. – 7:00 p.m.
$5 suggested donation
SGS Members: Free
Join us for a talk from Visiting Artist Elaine Forbes, as she discusses her journey as a glass artist and her current work. A short reception with refreshments will follow Elaine's presentation and her work will be on display in the days leading up to, and on the night of, the lecture.
Elaine is teaching Intro to Boro Jellyfish Implosions on the Saturday following the lecture. There are two spots left in this workshop.
About Elaine Forbes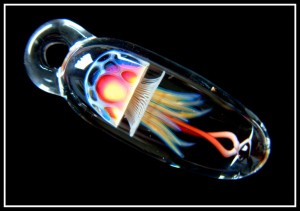 Lampwork glass artist Elaine Forbes ( 'wee-Lainy' ) comes from Scotland. She has a PhD in Genetics and moved to Tucson in 2006 while working as a Postdoctoral researcher at the University of Arizona.
After initially taking classes in furnace glassblowing at the Sonoran glass school with Paul Anders Stout, she took her first lamp working class in 2007 with Karl Taylor and began her flamework journey.
In 2008 Elaine began a full time career as a self representing Lampwork artist and now spends summers in Scotland and winters in Tucson. Although Elaine is mainly self taught she has been fortunate to study 'Kinetic glass' with Bhandu Scott Durham in 2013 and 'The joy of Stringer' with JC Herrell in 2015.
Elaine loves to create primarily with borosilicate glass. Initially intrigued by the chemistry and challenge of reactive glass colors, Elaine experiments to achieve the full range of possibilities from the borosilicate palette. Recently Elaine has become known for her incredibly detailed and colorful jellyfish and will be teaching students how to control shape and color in this exciting new class.