Friday Evening
May 8th, 2015
5:00 – 7:00 pm
Introducing the first-ever SGS Featured Student Invitational, a night highlighting the work of glass artists of various levels who actively learn or work in Sonoran Glass School's studios.
Come browse select pieces from these eight individuals on display in the SGS Gallery while mingling with SGS staff and the featured artists themselves. Most featured student pieces will be available for purchase. Light refreshments including beer, wine, and non-alcoholic beverages will be on-hand.
Featured student pieces will remain on exhibit and for sale throughout until June 1st. 
Flyers are now available in the SGS Gallery.
You may also print out your own by
clicking here
.
Featured Student Artists
Heather Thrall– Heather Thrall grew up in Sahuarita, AZ, graduating from high school there in 1991 and then from the University of Arizona with a BA in Geography in 1996. She has remained in Tucson, Arizona, working for the City of Tucson for over 16 years and was inducted as Beads of Courage glass bead artist in 2015. Heather considers working in soft glass a rewarding hobby.
Amy Wacker- Amy moved to Tucson in 2011 and quickly found Sonoran Glass School.  Here she was able to nurture her creative side in a medium that she and her husband, Doug, have admired for years.  Amy loves the desert colors and landscape, using them to influence much of her work.
Phyllis Bement – Phyllis Bement is an addicted and devoted glass fuser. After retirement, she found working with glass to be a fulfilling hobby in her free time. She enjoys the camaraderie of fellow artists and the continuing challenge that learning new processes presents.
Austin Pierson- Austin was born in Tucson, Arizona to a family of artists. Currently, he is studying both the arts and chemistry at Pima Community College. He has been working with glass since the summer of 2014, and began working at Sonoran Glass School a few months later after showing immense growth in the discipline of lampworking in a short period of time.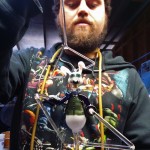 Greg Wilson – Tucson native, first got interested in glass in the early 2000's. First took a class in glassblowing at Sonoran back in 2007 . But didnt pick it back up until early 2014. Fulltime glassblower that enjoys doing both hollow and solid borosilicate glass pieces.
Lexy Scott – After making the decision of becoming a glassblower, Lexy Scott packed her bags and moved to Tucson. She since has happily been blowing glass at SGS and is currently working towards her dream of becoming a traveling glassblower.
Virgil Jones –  Virgil was born in Indiana and grew up surrounded by the arts, originally studying dancing and ice skating, and has always been attracted to visual arts. Virgil has excelled as a glassblowing student with great potential and was an assistant to Visiting Artist Josh DeWall's workshop Faster, Thinner, Better at Sonoran Glass School in February 2015.
Catharine Hyatt – Photo and bio coming soon