Info for the 2018 Flame Off here.
Flame Off 2017 Results
First Place: Raven Copeland
Second Place: James Lynch
Third Place: Matt Bain
Fourth Place: Floor Kaspers
View all finished pieces on Sonoran Glass School's Facebook page.
---

Friday, February 3, 2017     |     633 W. 18th Street     |     7-11PM
---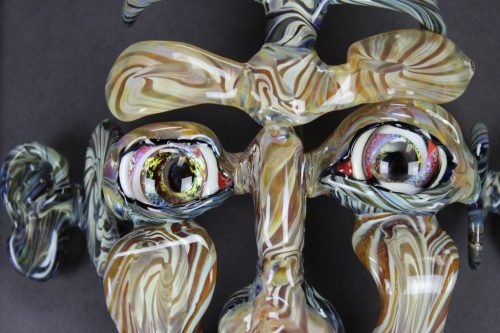 ABOUT
The Flame Off is an annual torchworking competition in Tucson, Arizona where 18 glass artists compete to make the best glass art creation inspired by this year's theme: "The Textures and Sparkle of Tucson's Gem Show."
The 
Arizona Daily Star has called the Flame Off a
 "Top Ten Must See Event of the Gem, Mineral, and Fossil Show" and Zocalo calls it "one of Tucson's hottest gatherings."
The event is now in it's 16th year and was originally founded by glass artist Tom Philabaum in 2001. Learn more about the 16th annual Flame Off below.
---
COMPETITORS
Every year, Sonoran Glass School chooses the competing artists. This year there will be 18 artists from around the country and one international competitor. Artists will compete in one of two competition sets (7PM or 9:30PM) and will have 90 minutes to complete their entry piece. There will be up to nine artists competing at a time.
First place prize is a A Samurai 3 Stage Torch ($4,325) from Flame Off sponsor Glass Tech Technologies. Second and third place winners receive hundreds of dollars in valuable torchworking supplies and gift certificates from our sponsors.
All competitors have agreed to donate their finished pieces to Sonoran Glass School to be bid on by attendees and the general public. Proceeds support the nonprofit Sonoran Glass School and its educational programming.
This year's competitors are: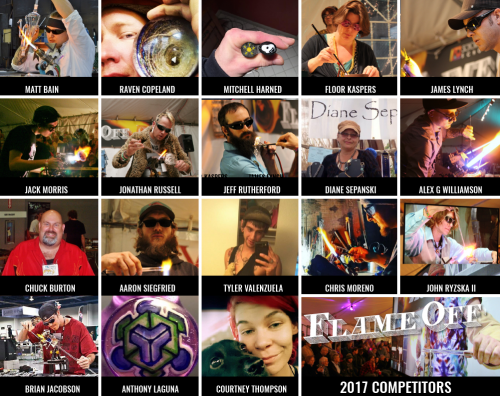 Winners will be announced on the Sonoran Glass Facebook page and posted to the Flame Off 2017 event page.
Round 1: 7:00-8:30 p.m.
Raven Copeland
Floor Kaspers
James Lynch
Jack Morris
Jonathan Russell
John Ryszka II
Diane Sepanski
AAron Siegfried
Alex G. Williamson
Round 2: 9:00-10:30 p.m.
Chuck Burton
Mitchell Harned
Brian Jacobson
Anthony Laguna
Chris Moreno
Jeff Rutherford
Courtney Thompson
---
SPECTATORS
Join the crowd and watch as flameworkers go torch-to-torch! Grab a seat in the bleachers and watch the competition in front of you and on HD screens live streaming close ups.
Your hosts, glass artists Margaret Zinser and Bronwen Heilman will provide entertaining and educational commentary on the progress of the artists, their pieces, and the competition.
Enjoy beer, wine, and a food truck roundup. Explore the Sonoran Glass Art Show tent next door as well.
ID is required to purchase alcoholic beverages.
This is an all ages event.

---
TICKETS
Buy your General Admission or VIP ticket online at sonoranglass.org/flameoffticket or at the door starting at 6:30. General admission is $20 and VIP tickets are $50. All proceeds benefit the 501(c) 3 nonprofit Sonoran Glass School and it's educational programs.
General Tickets-$20
Admission to the 16th annual Flame Off and Sonoran Glass Art Show tents
VIP Tickets-$50
Admission plus preferred seating,
two drink tickets,
a VIP lanyard,
and access to the VIP lounge inside Sonoran Glass School. 
---
BEER, WINE, & FOOD TRUCK ROUNDUP
Thunder Canyon Brewery is providing different brews to choose from, including its red ale and IPA.
Tucson's Food Truck Roundup will be represented featuring bratwurst, tacos, burritos, Peruvian fusion food, and classic American food.
Confirmed food trucks are Haus of Brats, Jackie's Food Court, Tacoqueta, Gigi's Peruvian Fusion.
---
SONORAN GLASS ART SHOW
The Sonoran Glass Art Show is Tucson's only all glass vendor showcase during the Gem, Mineral and Fossil show. And it will be OPEN for business during the Flame Off. Take a break from the competition and browse the crafts of 24 local, national, and international glass artists.
Special thanks to Doug Harroun and his World of Glass Productions, LLC for being a partner and major sponsor for the Sonoran Glass Art Show, now in its second year.
---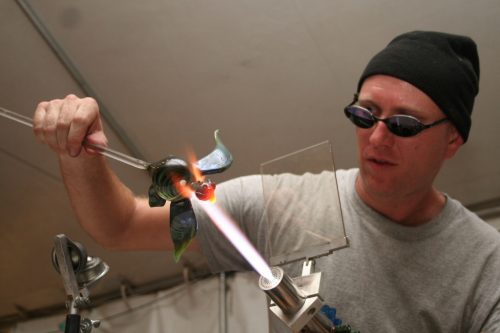 BIDDING, FRIDAY NIGHT AND SATURDAY
YES! You can take home completed Flame Off pieces. If you wish to bid on any of the pieces during the event you can do so by getting the attention of one of our clipboard-carrying volunteers. Bidding will extend on our Facebook page's Flame Off 2017 Bidding Album starting Saturday evening at 5 p.m. To bid all you have to do is leave your bid in the comments. Winners will also be announced in this album. 
---
FINAL VIEWING & JUDGING
Final Flame Off pieces will be available for viewing and further bidding in the Sonoran Glass Art Show tent on Saturday, February 4th and at Sonoran Glass School Monday through Friday from February 6th-February 10th. Saturday viewing hours are 12PM-5PM. Monday through Friday's are from 9AM to 5PM.
Sonoran Glass School has chosen a group of judges who are glass artists, non-glass artists, and community members. Each judge scores pieces according to a several categories related to concept, skill, execution, overall design, and others. Judges come in to view and judge the final annealed pieces on Saturday morning.
---
SPONSORS
We love our sponsors. They make this fundraising event possible.
SILVER SPONSORS



COPPER SPONSORS
SPONSORS