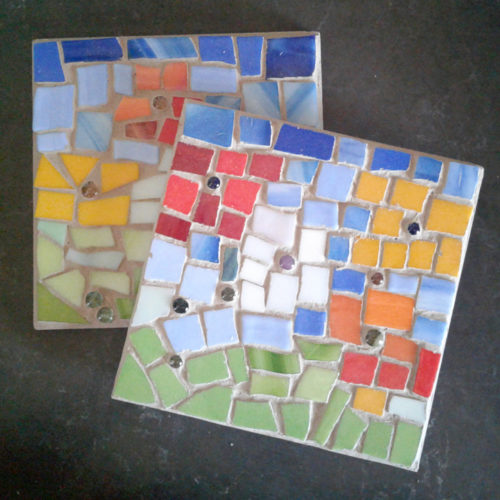 Mosaic kits are a fun and easy project for all ages. The kit includes a 6×6 tile, an assortment of glass, grout and instructions. All you'll need is glue (Elmer's works fine). Buy yours today by clicking here. You can pick up your kit/s on any Wednesday from 11am-1pm in the Warm Shop. There is no need to bring them back to the school. You can complete them at home. For a "how-to" video click here.
Participate in a group class from home! The package includes a mosaic kit for each participant and one-hour of live instruction via Zoom. Cost is $10 per student and a $50 group class fee. Contact Caroline Eimer, SGS Education Coordinator for more information and to schedule. caroline@sonoranglass.org.
Tape Transfer Glass Collage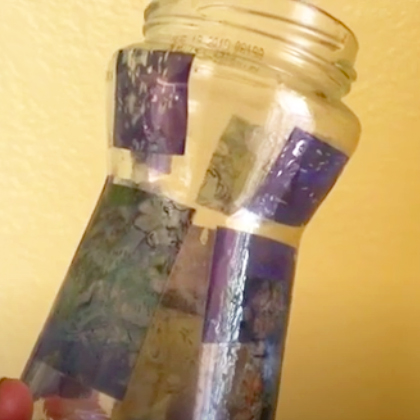 In this glass inspired art project, Caroline Eimer, the Education Coordinator at the Sonoran Glass School guides us in a video using everyday materials to decorate a glass plate or vase. Materials needed are: clear packaging tape, magazines/calendars, a container with water, clear-drying glue (Elmer's), scissors, a paintbrush, a sponge/paper towel, and a glass surface to collage on (ex: recycled glass jar). Watch the how-to video by clicking here.
Once you've colored the page, take a picture and share it with us! We want to see what you're making! Post it on social media or email it to info@sonoranglass.org