Welcome to the wonderful world of flame work.
There are two schools of thought with torch work.  One is soft glass or soda-lime glass.  Beads have been made using soft glass since the 5th century BC.  The second is hard glass, or borosilicate (Pyrex is a common trade name).  This glass is very clear and can take quick temperature changes.
The Flame shop is where a torch is used to melt the glass and beads, marbles, pendants, vases, goblets and sculptures are created.   
The Flame Shop also hosts a wide variety of Visiting Artists Workshops from prominent national and international lampworkers.  (scroll to the bottom for upcoming workshops)
(You can find torch, kiln, and studio equipment information at the bottom of this page.)
For any questions regarding this studio,

contact Flame Shop Director Bronwen Heilman (email:bronwen @ sonoranglass.org)
**NEW** Flame Working Experiences
---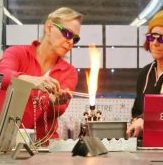 Regularly Scheduled Classes

(see below)
---
---
May 2019
---
June 2019
---
---
Visiting Artist:
---
---
Weekly Open Studio Days
EQUIPMENT:

Our Flame Shop is equipped with eight Nortel Redmax burners, one Bethlehem Alpha, and one Bethlehem Bravo. There are three Paragon kilns of varying sizes, one Skutt kiln, plenty of hand tools, and an assortment of Borosilicate, 96 COE, and Effetre 104 glass. We sell borosilicate and 104 glass without tax.
We sell COE 104, 96 and 33 color and clear glass at SGS. Purchase glass during your class and receive 10% off your purchase!
You must be at least 13 years old to sign up for a class.