Description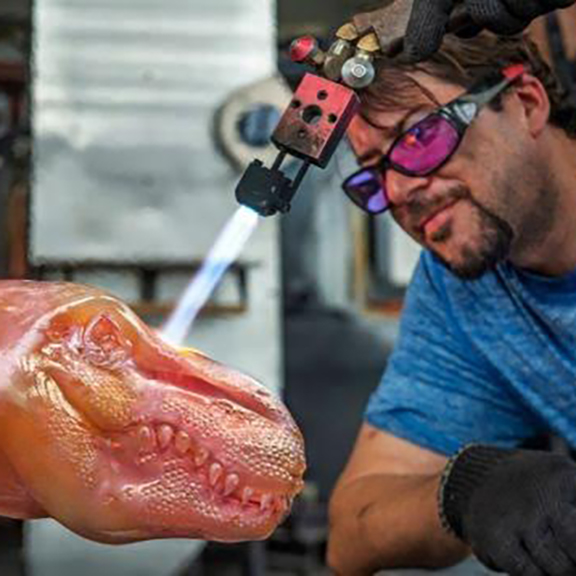 FROM  GRANT GARMEZY
I have been blowing glass since 2004. I attended Virginia Commonwealth University School of the Arts and earned a BFA in the Craft/Material Studies department, with a focus in glassblowing. Since I first picked up a blowpipe, I've been sculpting. I primarily focus on sculpting animal-inspired imagery. I incorporate a lot of surface techniques in my work, and love using a variety of unusual tools to sculpt and apply texture.
I love sharing what I do with enthusiastic students. I don't have secrets – you can consider me an open book. I enjoy demonstrating my process, helping students with their projects, and also discussing the business aspects of what I do – including my take on marketing and social media. I'm open for demos, teaching time, and artist lectures. While I'm happy to talk to students about their work, I prefer helping them create in the hotshop rather than doing individual portfolio reviews/ studio visits.
I have a lot of experience teaching workshops and intensives. Some highlights of mine include teaching at the Glass Furnace in Turkey, Aya Glass in Tokyo, Pilchuck Glass School, Corning Museum of Glass, Chrysler Museum of Art, University of Hawai'i Manoa, Cleveland Institute of Art and Kent State University. My style of teaching is professional and friendly, and I value humor and positive attitudes in the hotshop. I develop a good rapport with my students and like to stay in touch to see where their glass journey takes them. I am happy to provide guidance and advice after my visit is over, and hope to see them again in future classes and workshops.
To learn more about Grant and his work, visit www.grantgarmezyglass.com