March 5
Saturday
10 A.M. – 5 P.M.
MEMBERS: $295.00
NON-MEMBERS: $345.00
In this class students will cover different stringer drawing techniques on borosilicate glass.
The main 3 that will be covered are Retticellos,  Fillacellos, and free form discflips. Brian will start the class by demoing each one of these techniques all the while explaining the ins and outs of the process from prep work to completion.  The demo portion should take roughly 3-4 hours then the rest of the time will be hands on. During the hands on time it is encouraged that students practice they're newly acquired knowledge and ask as many questions as they feel necessary. Brian will be available during this time to give one on one instructionand aid the students while they hone in their skills. At the end of the class the Jacobson will do a brief recap of the information that was covered and the students will have an opportunity to discuss and share what they have learned as well as ask any last minute questions.
Prerequisite:Some borosilicate tubing experience or approval by the department head. 
Additional Information:
–  There is a $25.00 Material payable on the first day of class.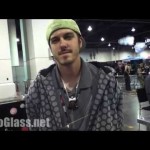 ABOUT Brian Jacobson: Brian Jacobson has been working with glass in the valley for about 6 years now. He mainly use borosilicate glass and is constantly amazed by the endless capacity this medium has. Lately he has been exploring themems that pertain to native cultures and spiritual development. Brian's intention is create a living for himself by creating works of art the influence positive change and propagate compassion and understanding between all walks of life.
More Information About Brain Jacobson: