Description
Prerequisite:Some borosilicate tubing experience or approval by the department head. 
Additional Information:
–  There is a $25.00 Material payable on the first day of class.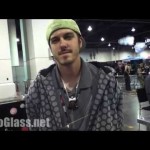 ABOUT Brian Jacobson: Brian Jacobson has been working with glass in the valley for about 6 years now. He mainly use borosilicate glass and is constantly amazed by the endless capacity this medium has. Lately he has been exploring themems that pertain to native cultures and spiritual development. Brian's intention is create a living for himself by creating works of art the influence positive change and propagate compassion and understanding between all walks of life.
More Information About Brain Jacobson: