SESSIONS
Session I: March 10-12
, 2017
 / Friday-Sunday /
10:00 a.m. – 5:00 p.m. (1/2 hour lunch break)
Lecture Thursday March 9th, 2017
CLASS NOTES
Material fee of $85.
Bring a lunch or cash as we will be ordering out for lunch.
As always, wear natural fabric clothing, close-toed shoes and have hair pulled back.
ABOUT DEMETRA THEOFANOUS: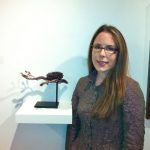 Demetra Theofanous has been immersed in the arts from a very young age, starting with violin lessons at the age of 4.  With the addition of piano, ballet, and theater as she grew older, her exploration of creative mediums grew. This thirst for expression was temporarily diverted, when she received her business degree from the Haas School of Business, at UC Berkeley.  After some years as a tax consultant and CPA, she realized there was something missing in her work, and had a desire to return to her creative roots. Demetra entered the medium of glass through the art of lampworking, creating glass beads as a hobby.  She quickly realized her ideas needed to be translated on a larger scale, and transitioned from making beads to creating glass sculpture on the torch.  After a brief internship in borosilicate glass coupled with time as Dean Bensen's assistant, she spent hours experimenting until she developed the techniques needed to create her nests, flowers, and branches.  While this time alone had its' challenges and frustrations, it was ultimately highly instrumental in pushing her to innovate as she developed her body of work.  The technique she developed for weaving glass is her signature, and the continuing basis for narratives in her work. She expanded her knowledge further in 2010, when she was juried into the prestigious Higuchi class at Corning, learning the ancient technique of Pate de Verre. Many of her sculptures now combine this technique with flameworked elements. Since 2013, she has also had the opportunity to serve as Robert Mickelsen's TA, and his guidance and knowledge has been instrumental in the continuing evolution of her work. Demetra has been internationally recognized for her woven glass and flora sculptures, and is included in numerous private collections, as well as the permanent collection of the Racine Art Museum.  She was a 2014 NICHE Award Winner for Best in Flameworked Glass, and received a 2012 Juror's Choice Award from renowned collector Dorothy Saxe. She has exhibited internationally, including at the S.F. Museum of Craft + Design, National Liberty Museum, San Luis Obispo Museum of Art, Louisiana's Alexandria Museum of Art, and in the Crocker Art Museum's prestigious 2012 Crocker-Kingsley Biennial. Demetra operates a private studio in San Francisco, CA where she continues to develop her signature work.  She is also an educator, teaching at top educational institutions such as Pratt Fine Arts Center in Seattle, and Pittsburgh Glass Center. Demetra was a 2015 demonstrating artist at the Glass Art Society Conference, where she also served as a Conference Co-Chair, and is President of the Board, for the Glass Alliance of Northern California. All of Demetra's pieces are one of a kind, produced solely by the artist, and created in limited number.