Description
SESSIONS
Session I: April 28-30th, 2017 / Friday, Saturday, and Sunday / 10AM-5PM (1/2 hour lunch break)
OPEN TO THE PUBLIC LECTURE
"My Travels and How I Found the Fumed Rainbow"
Thursday, April 27, 2017 / 5:30 – 7PM
Free for SGS Members
CLASS NOTES
There is a $30 material fee for this class, payable to Freddy Faerron at the beginning of class.
Please wear natural fabric clothing, closed toed shoes and have hair pulled back.
You can bring your own lunch or purchase lunch through Bronwen on the day of class. There is a refrigerator and microwave available along with a water cooler.
SUGGESTED TOOLS
-Fine Point reamer
-10 to 12 inch tweezers
-Tapering tools
-2×3 inch paddle marver or larger
-Marble mold with multiple sizes or a single infinite mold (molds available at SGS for use)
OPTIONAL TOOLS
-Trim shears
-Diamond shears
-L-marver
-Needle nose pliers
-Clear face shield for fuming (not mandatory)
ABOUT FREDDY FAERRON: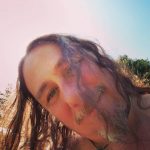 Freddy Faerron has been a professional craft artisan for over twenty five years. His career has encompassed various media including leather, metal, plate glass and lampworked glass. He has traveled throughout the U.S. selling his art in open-air markets, craft fairs and retail stores. His jewelry was showcased on the national TV series "Dharma and Greg," and worn in concert by Emily Saliers of the Indigo Girls.
Working as a stained glass assembler in the mid 1990s, he fell in love with glass in general. He learned to cut, foil and assemble custom stained glass panels from artists Bill and Irene Powell of Miami, Florida, and has continued his growth in glass art ever since.
He began working with borosilicate glass as a lampworker in the late 90s. For the past 17 years he has developed jewelry, marbles and large-scale borosilicate drinking vessels, as well as solid and hollow sculptures. He feels he is just now beginning his dialog with lampworking and believes he has established a comprehensive vocabulary to create a body of work.