Description
Prerequisite: This class is for Intermediate Students; also classes Boro A and Boro B are very helpful  
Additional Information:
–  There is a $45.00 Material Fee due the first day of class.
Bring a lunch, or cash, the class will be ordering out for lunch.
ABOUT JOHN KOBUKI: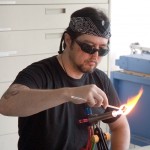 John Kobuki is one of the Top 5 Borosilicate marble artists in the world. He is the foremost flower marble artist in the world, and is also well known for his amazing jellyfish. His work has been described as breathtaking. Kobuki takes his art very seriously and his attention to detail is literally legendary.
-More about John Kobuki: