January 7 & 8, 2017
SATURDAY & SUNDAY
10 A.M. – 5 P.M.
MEMBERS: $470
NON-MEMBERS: $535
THIS CLASS IS FULL

BUT THERE IS A WAITING LIST. IF YOU ARE INTERESTED IN THIS CLASS PLEASE EMAIL US AT: INFO@SONORANGLASS.ORG 
This two day class explores the "Compression" technique used to make flowers and other deeply encased designs utilizing solid rods of borosilicate glass.
There will be two marble demonstrations each day with hands on instruction with the students behind the torch after each demo.
Learn basic patterns for flowers and jellyfish along with color blending and tooling tricks for more interesting petals and leaves. You will also learn about core heat and flame management along with the basic fundamentals of marble making.
As a class, we'll explore why this technique is a "Compression" as opposed to an "implosion" and what constitutes an "original design."
Prerequisite: This class is for Intermediate Students; also classes Boro A and Boro B are very helpful  
Additional Information:
–  There is a $45.00 Material Fee due the first day of class.
Bring a lunch, or cash, the class will be ordering out for lunch.
ABOUT JOHN KOBUKI: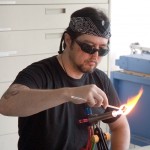 John Kobuki is one of the Top 5 Borosilicate marble artists in the world. He is the foremost flower marble artist in the world, and is also well known for his amazing jellyfish. His work has been described as breathtaking. Kobuki takes his art very seriously and his attention to detail is literally legendary.
-More about John Kobuki: