Instructor Mark Hufford
March 10-12, 2017
Friday, Saturday, and Sunday
Friday & Saturday 9AM-5PM
Sunday 10AM-4PM
Explore application techniques using Colors for Earth fired glass enamels as Mark teaches you his methods to create realistic and dimensional works in fused glass.
In addition to the featured work, students will also complete the Poppy coaster and a color theory piece concentrating on using the color wheel to your advantage.
Students attending this workshop will receive a complimentary copy of the Floating Maples Leaves video tutorial, for future reference, and become members of the Rolling Rocks Facebook.
SESSIONS
Session I: March 10-12
, 2017
 / Friday-Sunday /
9AM-5PM (Fri & Sat) 10AM-4PM (Sunday)
ABOUT MARK HUFFORD: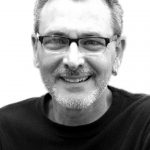 My name is Mark Hufford. I am an artist, freelance graphic designer, art instructor, and small business owner. Originally from Perrysburg, Ohio, and a transplant in Texas for over 30 years now.
I have been drawing since the age of 4 and my passion in art is using graphite while exploring ever nuance and technique with pencil and paper. I enjoy teaching beginners in drawing how to observe and see things differently in life and chip away at the information our brains store in what we know versus what we actually see. The mind many times just fills in the  blanks and we miss a lot of important information due to this fast paced life we all live.
In addition to running a small family business, I teach private drawing and art instruction to individuals with that hidden desire to be creative and learn. I teach drawing in graphite, soft pastels, and scratchboard for the beginner to intermediate level.
I currently teach fused glass workshops using Colors for Earth fired glass enamels as well as graphite drawing workshops. I have applied my decades of fine art and graphic design experience creating fresh and dynamic designs for the fused glass community. The application techniques I teach are adapted from many of the art mediums in which I have experience. The focus on my application techniques provides students with an increased awareness and building on their observation skills to create realistic works.