February 26, 2017
Sunday
5:30 – 9:30P.M.

Please join us in welcoming visiting artist Stephanie Sersich.
ABOUT THE CLASS
We'll use floss and waxed linen to bind beads and other treasures into a bracelet. In this 4 hour class, Stephanie will show you her signature knotting technique to assemble the beads into a fabulous bracelet (if time permits, Stephanie will show how to make more jewelry, like earrings and pendants.)
The materials and methods provide an opportunity for self-expression—there is no pattern to follow, the beads can vary in size, color and shape. Each student in the class creates a bracelet different from the others. The unusual materials and larger bead sizes (a nice change from the intricate "seed bead" work) seem to level the playing field for beginners and long-time Jewelers. Students will complete the bracelet in class.
Prerequisite: None 
Additional Information:
Bring a lunch or cash because we will be ordering out.
There is a  $65.00 Kit Fee due the first day of class (includes all strings and filler beads for bracelet).
*Stephanie's Sculptual Beadmaking Class must go in order for this class to happen.*
ABOUT STEPHANIE SERSICH: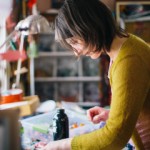 I am a fiber-artist, jewelry designer and glass beadmaker. While I work in several media, my signature jewelry incorporates a mixture of my own lampwork beads, vintage glass, ethnic beads, natural materials and fibers.
Since I was threading yarn through pasta I have been making jewelry. My mom, Annie, is an artist too and was always doing art projects in the house while I was growing up. My mom collects ethnic jewelry and eclectic art. She sews wild (but elegant) clothing and knits stop-you-on-the-street sweaters. From her, I've inherited a love of beads and fibers as well as the desire to create unique wearables by hand.
In college, I studied metalsmithing and painting. I loved the engineering process of the metal work and colors of the painting. As a bead-collector, I was tempted to try and make my own glass beads.Lampworking is an ancient glass-working technique whereby one winds glass rods around a steel mandrel over flame to build layers of color. There it was, the amalgamation of color and texture I craved.
I taught myself a variety of traditional stringing and knotting techniques and developed a few of my own. The "Spiny Knotting" technique I developed allows more beads and small treasures to be bound into a single piece, so each one of the "ingredients" adds a distinct energy that works to complement all the others. Though these collections take the form of jewelry pieces, I think of myself as a creator of "talismanic objects"…or maybe just "revolving wearable vignettes". I live on the coast of Maine and love to spend time in my garden and studio, combining different colors and textures, whether beady or floral.
More Information About Stephanie Sersich: