Description
There will be a Material fee of $62.00 due on the first day of class.
 Also, bring a lunch or cash because we will be ordering out for lunch.
---
ABOUT STEPHEN BOEHME: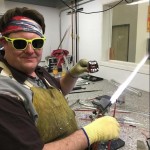 My name is Stephen Boehme and I am an artist and teacher living in Riverton Utah. I enjoy exploring Back country Utah. Most of my artwork is inspired by the textures, History, and diverse landscape found throughout my home state. My interests be it fishing or fossil hunting are all reflected in the texture of my Work. I find it hard to separate one from the other. I teach ceramics, sculpture, and silversmithing at a wonderful High school during school year. And I create art during the summer months and in the evenings. My motto is make something every day no matter how small. Right now I am probably in my studio at the torch making murrini. I have become infected with the glass bug. And yes it is contagious. Sitting behind a torch and melting glass rods is highly addicting.
---