FEBRUARY 15-19, 2016
10:00 A.M. – 4:00 P.M.
Verre' Eglomise™ is a unique technique and process used to create stunning glass art. The technique is also versatile and may be applied to fused, slumped, flat, or cast glass. A variety of glass creations can be created using the method, from small items to sculptural and functional glass art, including large bowls, sinks, vessels, tables, furniture, jewelry, and home décor.
The process can be used on any shape and any type of glass (i.e. Float, Soda-Lime, Borosilicate, & crystal). This workshop utilizes a 1/2" thick float glass. Students will create individual pieces, and learn to use the materials and equipment involved.
FULL DESCRIPTION
The workshop requires working with float glass in the kiln. Each student will learn how to make their own sculptural mold which will be utilized to kiln sculpt and slump the thick glass. Great detail can be created using this technique.
SANDBLASTING AND SANDCARVING
In the SGS Cold Shop, students will learn sandblasting and sandcarving combined with the intaglio (in reverse, or on the bottom) technique. Students will sandblast or carve their kiln-formed pieces and learn the intricate process of intaglio glass painting or staining- as well as overlay and inlay of exotic metals such as copper, silver, or gold.
The painting/staining method of the glass is unique to this workshop, utilizing non-traditional painting methods and materials. Multiple application options will be taught, and utilized as each student desires. No firing for the paints.
Students will make a minimum of two pieces in the workshop: one large piece (12" – 16") and another small tile. Additional pieces may be made if time allows.
STUDENT PIECES
You'll take home a large kiln-formed glass piece. Using thick ½" float glass ranging in size from 12" – 16" inches in diameter. The resulting glass made in the class can be used to create a beautiful bowl, sculpture, tabletop, vessel and more. In addition, students will work with a 4" beveled crystal square tile (1/4" thick).
WHAT TO EXPECT
We will be focusing on working with thick float glass. Included is firing, sculpting and slumping of float glass. Students will have hands on sandblasting and sandcarving. It is a technique that will change the student's glass art forever. Students will return home with skills, knowledge, materials and the ability to continue using this unique technique. The process allows for students to create beautiful art immediately. Brand new techniques, material and possibilities will be taught. Students will be introduced to the new materials and processes that were not previously available. While this process is centuries old, the instructor has worked and developed much of the materials and techniques used.    This instructor is currently the only artist teaching this process and technique in the US.
ABOUT PEGGY PETTIGREW-STEWART
Peggy's work combines unique optical crystal with scientific glass to create her Plasma Fusion Glass. She has long been fascinated and intrigued by glass and the light that passes through – the phenomenon of light waves creating color change. She continues to experiment with the material properties of translucency and transparency in this special glass. Her technique is woven into the glass to present her stories and interpretations.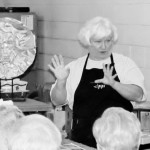 Through studies and training (USA and Spain) the artist has found a "voice" and a unique glass process and technique.  She has studied at Pilchuck Glass School and Academe' Taller in Spain.  Recently she had the privilege of working with Team Chihuly on the exhibition installation at the Desert Botanical Gardens in Phoenix AZ.   Various cultures (such as Native American) have always fascinated her. With a close friendship of a Hopi friend, she has been inspired to create her contemporary glass series "Earth Wind Sky & Water". Through the storytelling of the Native culture and lore, she presents her interpretation through the medium of Kiln Sculpted Glass.
Artist Submitted Photos