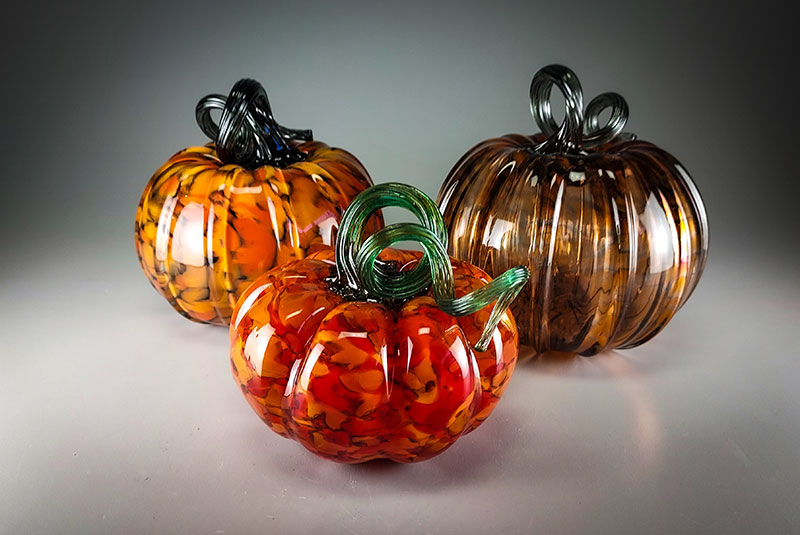 Annual Pumpkin Fiesta Features Hundreds of Colorful Glass Pumpkins, Live Glassblowing, and Hands-on Activities for the Whole Family.
Throughout the month of October, visitors can explore hundreds of colorful hand-made glass pumpkins, enjoy live glassblowing demonstrations and make fall-themed glass projects at Sonoran Glass School's Annual Pumpkin Fiesta. Visitors can shop for seasonal glass art housewares and gifts in a festive fall atmosphere. The month-long event takes place at Sonoran Glass School, 633 W. 18th St. near Barrio Viejo.
DESIGN AND CREATE YOUR OWN GLASS PUMPKIN
One of the most popular activities during the festival is the Make-Your-Own Pumpkin Experience. Participants pick colors and design elements and then work with SGS artists to create their own glass pumpkin. Folks come year after year to add to their custom pumpkin collection and continue family traditions. This project is $115 and proceeds support the nonprofit Sonoran Glass School and its youth education programing. Reservations are required. Space is limited, so call 520-884-7814 to reserve your spot today. Additional Make-Your-Own Experiences are available throughout the year.
BROWSE COLORFUL GLASS PUMPKINS MADE BY PROFESSIONAL ARTISTS
SGS artists have been working since early September on glass pumpkins of all colors, shapes, textures, and sizes. Among those produced are the 2022 Signature Series Pumpkins, which require several additional high-skill steps to craft.
FREE, LIVE GLASSBLOWING DEMONSTATIONS
Sonoran Glass School is a working fine-art glass studio open to the public Monday through Saturday, 9 am until 5 pm. Stop by and watch our talented staff artists create their next great pieces for the retail gallery or sign up to take a class or Make Your Own Experience and learn how to make your own masterpiece. Drop-ins are welcome, but please call ahead to ensure that the shop will be active when you arrive. Guided group tours are available 12 pp /$120 minimum. Reservations are required. Call 520-884-7814 for more information or to schedule a tour.
SUPPORT GLASS ART EDUCATION
Sonoran Glass School's mission is to inspire people of all ages to discover the wonder of glass art. Proceeds from this event help support that mission by subsidizing Sonoran Glass School's free and reduced-cost education programs for youth and underserved communities in Tucson. In addition to teaching the specific skillset required to work art glass, Sonoran Glass School believes this unique and engaging art form has the power to teach essential life skills including planning, collaboration, teamwork as well as create community, broaden horizons and change lives.
Space is limited, call to reserve your spot today: (520) 884-7814