Remembering Kristallnacht: New Work from Broken Glass
November 2018
Jewish History Museum, Sonoran Glass School, Jewish Family & Children's Services,
and the Tucson Jewish Community Center

ABOUT THE EVENT
This fall, Sonoran Glass School, in collaboration with Tucson's Holocaust History Center, The Tucson Jewish Community Center (The Tucson J), and Jewish Family & Children's Services, will present free, values-based experiential programming to commemorate the 80 years that have passed since Kristallnacht. Remembering Kristallnacht: New Work from Broken Glass will offer students and community members a special opportunity to participate in a public arts exhibition with cultural and historical impact.
Kristallnacht, November 9, 1938, is commonly known as the "night of broken glass," when a wave of violent anti-Jewish pogroms roiled throughout Germany, Austria and the Czech Sudetenland. By the time the night was over, the streets of German cities and towns were lined with shards of shattered glass from synagogues, homes, and Jewish-owned businesses that had been destroyed during the violence.
---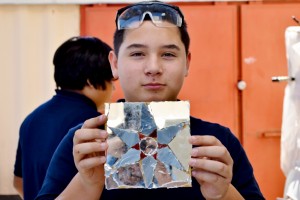 Remembering Kristallnacht gives us the opportunity to reflect on the agency of individuals, groups, and nations in historical context, and celebrate resilience through the beauty of a glass art exhibition. By doing this, we can better understand the possibility and power of the choices available to us today.
Students from area high schools will experience a docent-led tour of the Jewish History Museum's Holocaust History Center, participate in a hands-on project at Sonoran Glass School, and see their work exhibited in a community-wide art show at the Tucson J.
Please donate today! We hope to make this unique opportunity available to as many as local students as possible but we can't do it without your help.
TEACHERS: If you are interested in organizing a field trip for your class, please fill out a School Group Request Form.
Artists: We invite you to participate in a community-wide art show at the Tucson JCC, Remembering Kristallnacht: New Work from Broken Glass, Nov. 2 – Dec. 7. For more information, please see the Call for Artists.
Thank you to our sponsors!
Experiential Jewish Education Network
Long Realty Cares Foundation
Karen Spiegel & the Honorable Jonathan Rothschild
Ellen Kaye
Art Alliance for Contemporary Glass
Rabbi Stephanie & Dr. Jack Aaron
Nancy Strauss
Beth & Michael Kasser
Kandie & Drew Vactor