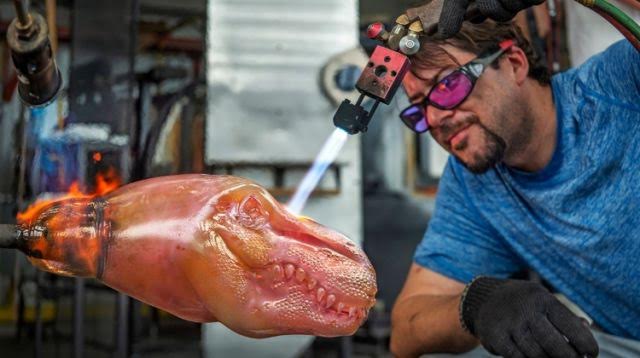 TUCSON, AZ – Sonoran Glass School announces of the return of its master series glass workshops with Grant Garmezy's "Awaken the Beast: Sculpting Animals in Hot Glass." The workshop will take place March 29th through April 1st at its Tucson, AZ campus.
In this four-day, hands-on class, students will explore the potential of working with hot glass as a sculptural medium. The workshop will focus on using both solid and blown sculpting techniques to create animals and animal-inspired sculptures. Participants will employ a variety of torches and sculpting techniques to bring animal-inspired sculptures to life, including solid sculpting, inside sculpting, assembly of parts, color application, garage use, and – most importantly – teamwork. Problem solving will be emphasized, and students are encouraged to bring their favorite images for inspiration.
"I love sharing what I do with enthusiastic students," says Grant Garmezy. "I don't have secrets – you can consider me an open book. I enjoy demonstrating my process, helping students with their projects, and discussing the business aspects of what I do – including my take on marketing and social media."
Raised on a farm outside of Nashville, Grant Garmezy began his artistic career working with metal and clay. He found glass in 2003 and has since been using the sculptural medium to create work influenced by his life on the farm. Garmezy now lives and works in Richmond, Virginia as a professional glass artist and continues to draw inspiration from the environment of the American South.
Garmezy has studied with Scott Darlington, Ross Richmond, Martin Janecky, Raven Skyriver, Marc Petrovic, Karen Willenbrink-Johnsen and Jasen Johnsen. He has traveled as far as the Northlands of Scotland, and Seoul, South Korea, to demonstrate his craft.
Sonoran Glass School's Master Series workshops allow artists and students an opportunity to work with the glass world's most innovative and creative artists. Sonoran Glass School is proud to offer these opportunities to artists and students from Tucson and across the country. More information about this workshop and other classes and programs can be found at SonoranGlass,org.