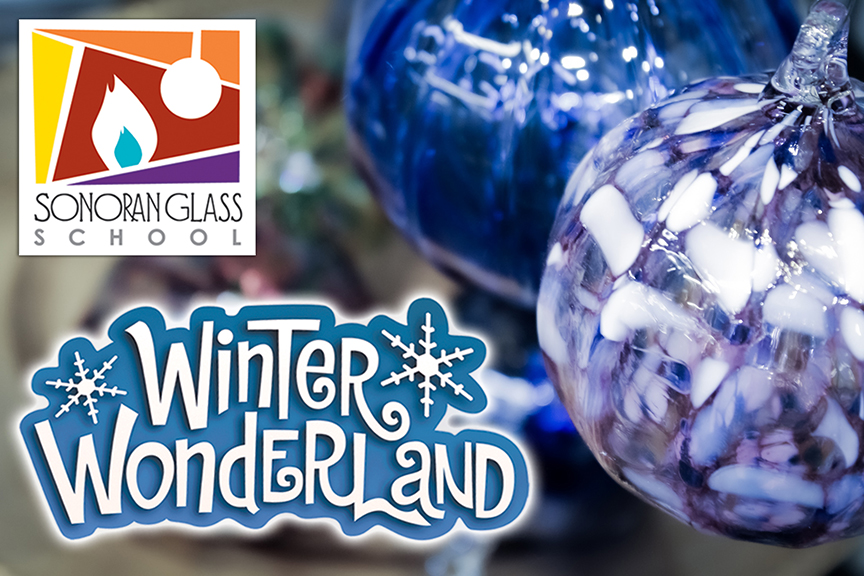 Annual Winter Wonderland Event Features Hundreds of Colorful Glass Ornaments and Gifts, Live Glassblowing, and Hands-on Activities for the Whole Family.
Visitors can explore hundreds of colorful glass art ornaments and holiday-inspired gifts, enjoy live furnace glassblowing demonstrations, and make holiday-themed fused and blown glass projects during Sonoran Glass School's Winter Wonderland. The month-long celebration running throughout December features fun family activities, seasonal decorations, and a festive holiday atmosphere.
CREATE YOUR OWN GLASS ORNAMENTS: Guests can pick out the colors and designs for their very own ornaments and then assist an instructor in making it in the glassblowing studio. Proceeds support the nonprofit Sonoran Glass School and its glass art education programing. Reservations are required for this activity. Space is limited, so call 520-884-7814 to reserve your spot today!
BROWSE COLORFUL GLASS HOLIDAY GIFTS: SGS artists have been working since early November to fill the gallery with a wide range of glass art ornaments of all colors, shapes, textures, and sizes.
LIVE GLASSBLOWING DEMONSTRATIONS: Sonoran Glass School is a working fine-art glass studio and gallery open to the public Monday – Saturday, 9 AM – 5 PM. Stop by and watch our talented staff artists create their next great pieces for the gallery. Call ahead to ensure the best viewing experience.
SUPPORT GLASS ART EDUCATION: Sonoran Glass School's mission is to inspire people of all ages to discover the wonder of glass art. Proceeds from this event help support that mission, by subsidizing Sonoran Glass School's free and reduced-cost education programs for youth and underserved communities in Tucson. Sonoran Glass School believes this unique and engaging art form has the power to create community, broaden horizons and change lives.
Space is limited, call to reserve your spot today: (520) 884-7814