Friday, November 14, 2014
5:00 p.m.  –  9:00 p.m.
Individual: $50
Couple: $80
633 West 18th Street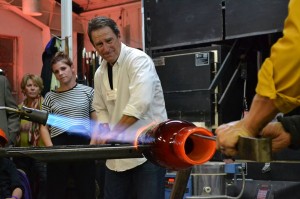 We are proud to present our annual Trading Places fundraising event, this is our most important fundraiser, featuring exciting live collaborative demonstrations by Tucson painters, photographers, and local personalities, including Lupita Murillo and Janos Wilder, with SGS artist instructors.
This event is an evening dedicated to raising money for Sonoran Glass School and glass arts education in the desert southwest featuring: one-of-a-kind glass pieces available for purchase, hors d'oeuvres by BLU, a no-host bar (one drink ticket included with admission), music and more.
You can BUY TICKETS ONLINE or AT THE DOOR starting at 4:30 p.m. on the night of Trading Places. If you bought your ticket off our website, head straight to the Will Call area instead of waiting in line on November 14th.
---
This year's featured artists and personalities are:
This is your chance to support SGS's mission of promoting glass art education while exploring the glass arts and enhancing your personal art collection. View and purchase original glass artworks, mingle with our Staff and Board, and enjoy our organization's celebration of glass arts education! Proceeds benefit our programs including our Youth Education Program which gives free or reduced rate glass art classes for K-12 kids from underprivileged schools
---
Trading Places Preview Videos
Press release
Tucson Artists and Celebrities Create Glass Art to Raise Money for Non-Profit Sonoran
Glass School at Trading Places Event
TUCSON, Ariz. (October 20, 2014) – Prominent artists and local personalities, including KVOA
reporter Lupita Murillo and Downtown Kitchen and Cocktails owner Janos Wilder, are
collaborating with glass art instructors and creating pieces to be sold at Trading Places, an
annual fundraiser for the non-profit Sonoran Glass School on Friday November 14 from 5 to 9
p.m.
The evening event features final Trading Places pieces on display and for sale, hors d'oeuvres
by BLU, a wine and cheese stop, beer and wine, as well as live furnace glassblowing
demonstrations featuring Trading Places personalities in the Hot Shop throughout the night.
Glass artists from around Arizona have also donated pieces to be sold at the event to benefit
SGS.
The demos are designed to show the audience how Trading Places pieces were made in an
informative and entertaining way and will feature up to three Trading Places artists glass
working with SGS artist instructors live in the studio with wireless microphones.
Nine individuals- most with no experience working with the glass arts-have been asked to come
up with glass art projects based on their life, work, or interests and will work and collaborate with
SGS staff throughout October—or live on the night of the event—on Trading Places pieces.
This year's featured artists and personalities are Kate Breakey (mixed media photographer),
Simon Donovan (public and fine artist), Elizabeth Frank (found object sculptor), William Lesch
(photographer), Lupita Murillo (KVOA Reporter), Dawn Renee (Raku ceramic artist), David
Tineo (painter and muralist), Mark Wallis (sculptor), and Janos Wilder (chef and owner of
Downtown Kitchen and Cocktails).
The Trading Places fundraiser is an evening dedicated to raising money for Sonoran Glass
School and glass arts education in the desert southwest. All proceeds benefit SGS and its
award-winning educational programs (LUMIE Award 2011, Tucson Pima Arts Council), including
programs for youth, veterans and seniors.
Tickets are $50 for individuals and $80 for couples and include catered food and one drink ticket
per person. Tickets are available at the door and at www.sonoranglass.org. SGS is located at
633 W. 18th Street in Tucson, Ariz.