City High School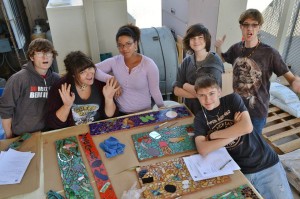 City High School's unique academic program promotes a hands-on learning experience that engages students directly with their community. Last fall, students designed colorful mosaic backgrounds for the display cases at the Pennington Street entrance of the school.
City High School students also gave up their spring break to take a glassblowing intensive course in making handblown orbs. The program resulted in roughly two dozen orbs, now on display as the centerpiece of City High School's historic facade renovation.
San Miguel High School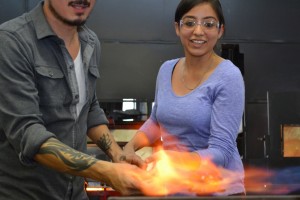 San Miguel High School is a private Catholic and Lasallian college-and-career prep school located on the south side of Tucson, exclusively serving families with limited financial resources. We are offering 12 Senior students education in all three of our shops on a weekly basis for 12 sessions. Projects range from fused plates, to one-on-one glassblowing instruction, to lampworked beads.
In 2013, San Miguel High School seniors designed and assembled a mural as a senior project. It's now on display in the outdoor hallways of the high school.