October 1st | Saturday | 10 a.m. – 6 p.m.

Barrio Vidrio is a neighborhood celebration of the fall season and glass artistry in Tucson.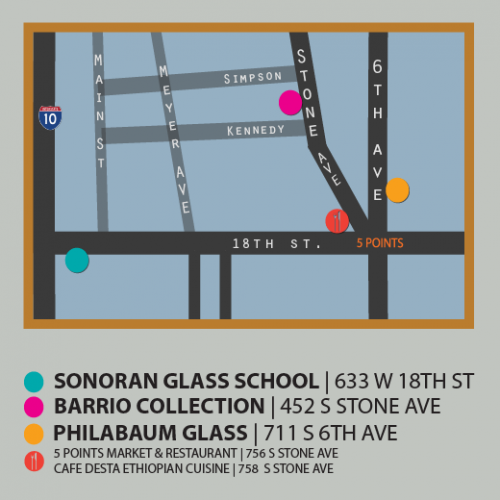 About
Watch exciting demonstrations, browse for glass art, and even create your own masterpiece while taking a walking tour of what we call "el barrio vidrio" (the glass district) and its three glass galleries and studios.
Brought to you by Sonoran Glass School, Philabaum Glass Gallery & Studio, and Barrio Collection.

Find the map, places to eat, and more information at barriovidrio.com
Schedule
10:00 a.m. – 4:00 p.m.
Venue: SONORAN GLASS SCHOOL-
It's a Pumpkin Fiesta at Sonoran Glass School. Explore hundreds of colorful handmade glass art pumpkins and try your hand at torchworking, kiln-firing, or glassblowing in one of our studios (for $10-85). Make fall-themed projects–including the popular Make Your Own Pumpkin experience–or just watch the action. The gallery will also be open for browsing and shopping.
12:00 – 4:00 p.m.
Venue: BARRIO COLLECTION-
Katja Fritzsche is well known for her sand-cast glass shrines and will be at her studio and gallery, Barrio Collection, down the street from SGS. The glass school's mobile hot shop, or G.O.A.T. (Glassworking on a trailer), will also be located here and used for a demonstration on mold blowing a deer's head at 1:30 p.m.
2:00 – 4:00 p.m.
VENUE: PHILABAUM GLASS GALLERY & STUDIO-
Tom Philabaum and friends will be providing advanced glassblowing demonstrations throughout the day. Look for demos from Philabaum's staff glassblowers including Louis Via and Jason Marstall. The gallery will be open for browsing all day, starting at 10 a.m.
4:00 – 6:00 p.m.
VENUE: PHILABAUM GLASS GALLERY & STUDIO-
A narrated glassblowing demonstration and new artist reception for "Profusion | Fused Glass" takes place at Philabaum's in the early evening. The new reception features work from Richard M Parrish and Karen Bexfield. Sip wine, mingle, browse works, and watch a glassblowing demonstration with the artists on wireless mics talking about their process. 
---
 Make Your Own Glass Projects at Sonoran Glass School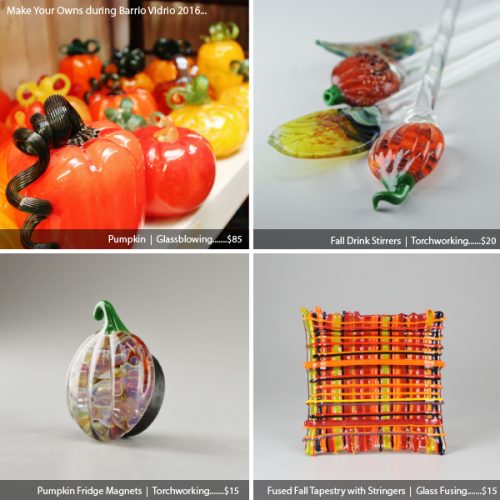 Videos from last year
Making a Ballantini cane pumpkin for Barrio Vidrio 2015
Skip to 17:04 for interviews with participating galleries