GROUP EVENTS at Sonoran Glass School are an exciting way to spend time with family, friends, employees, or members of your club or organization. Groups of 8-20 people can pick from a variety of experiences, all of which allow them to make glass art pieces and/or in one or more of our studios (parties up to 40 can also be accommodated but with a limit on activities).
The price of your experience varies on how many people are in your group and which Make Your Own Glass Art Experiences you've scheduled. Call Executive Director John-Peter Wilhite at (520) 884-7814, and he'll be happy to answer any and all questions and personalize a Group Event for your party.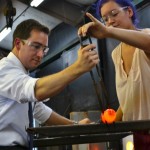 2014-16 Group/Corporate Event Participants include: Intuit, Chase Bank, Desert Leaf Magazine, Gordley Group, Dinner a la Art, Kuoni Destinations, Parsons Brinckerhoff, Sunquest
Sonoran Glass School welcomes you to have catered food and/or beer and wine during your event. We will coordinate with your vendor(s) and set up space and power supplies for food and beverages.
Below, find examples of glass art projects you can make during your Group Event. Pricing is reduced by 10% for groups of 10 or more. Call (520) 884-7814.