FOURTH OF JULY PARTY
THURSDAY, JULY 4TH, 2019
SONORAN GLASS SCHOOL
6PM-10PM
$5 Entry
(kids 12 and under free)
Preorders now closed. Special: $15 BBQ Plate and Event Ticket (Food is pre-order only by June 30)
Celebrate America's 243rd birthday with BBQ, make-your-own glass art projects, "A" Mountain fireworks, and an educational talk on American Stained Glass. Entry is $5 with kids 12 and under admitted free.
NEW THIS YEAR: We now have a BYOB license! Guests 21 and up may bring beer and wine to the event when they RSVP by emailing info@sonoranglass.org.
ALL NIGHT — MAKE YOUR OWN GLASS ART PROJECTS
Make exciting glass art projects! No appointment or experience necessary.
In the torchworking studio, known as the Flame Shop, you can create Lemonade Drink Stirrers ($15), and Old Glory Frit Magnets ($10),
(for ages 10+).
For those who might be a little fire shy, you can try cold-glass assembly projects in our kiln fusing studio including the Firework Sun Catchers for $15 (or two for $25) and Firework Magnets for $5 each,
(for ages 4+).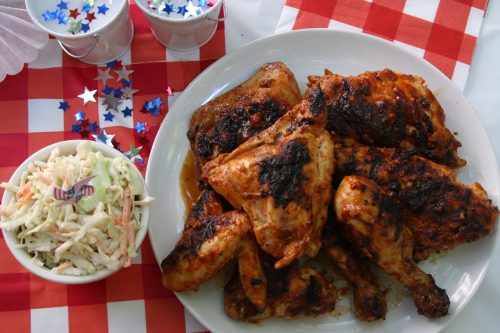 6-9PM — BBQ FOOD! (Pre-order now closed!)
What would an Independence Day party be without some great BBQ food!
Includes your choice of BBQ Ribs or Roasted Chicken with corn-on-the-cob, and a side of coleslaw or beans. Plates are $12.
Guests are also welcome to bring their own food and drinks if they did not pre-order bbq. Snacks and drinks will be available for purchase for $1.
6 & 7PM — RED, WHITE, AND WATER BALLOON FIGHT
Kids can grab a balloon and cool down in the hot summer sun with our Red, White, and Water Balloon Fight!
Soda, cookies, and other kid-friendly snacks and drinks will be available inside.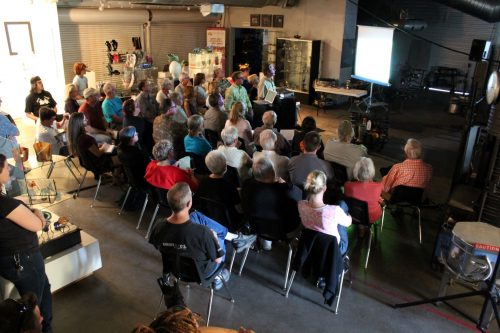 7:30PM — "AMERICAN STAINED GLASS," A GLASS TALK AND DEMONSTRATION
Discover the history of stained glass in America and the stories behind some of our nations most famous stained glass works.
Associate Director Nick Letson will be hosting the presentation and lecture.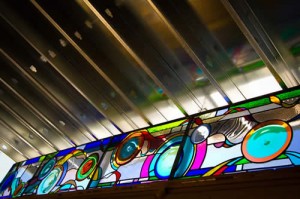 This 20-minute lecture will be accompanied by a demonstration on how to make stained glass.
9PM — GRAB A SEAT AND WATCH THE FIREWORKS
Close to "A" Mountain, Sonoran Glass School is a great place to watch the fireworks. Our west lot will be sectioned off for firework viewing.
Use one of our chairs or bring your own! Enjoy listening to classic American music from brass band ensembles on our PA system.