FOURTH OF JULY PARTY
WEDNESDAY, JULY 4TH, 2018
SONORAN GLASS SCHOOL
6PM-10PM
$5
(kids 12 and under free)
Celebrate the United States of America's 242nd birthday with BBQ, glass art demonstrations, make-your-own glass projects, "A" Mountain fireworks, and an educational talk on U.S. Glass. Entry is $5 with kids 12 and under admitted free.
ALL NIGHT — MAKE YOUR OWN GLASS ART PROJECTS
Make exciting glass art projects! No appointment or experience necessary.
In the torchworking studio, the Flame Shop, create Independence Day Themed Beads, Flag Drink Stirrers, Stamps, and Old Glory Frit Magnets all ranging between $5-15. Firework Sun Catchers in the Warm Shop for $15 (or two for $25) and Firework Magnets for $5.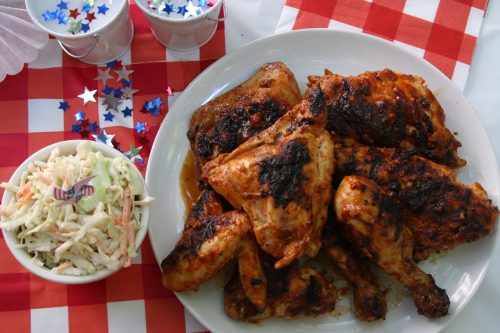 6-9PM — BBQ FOOD! (Pre-order only!)
Food pre-order is now closed! Guests are welcome to bring their own food and drinks if they did not pre-order bbq. Snacks and drinks will be available for purchase for $1.
What would a Independence Day party be without some great BBQ food!
Includes your choice of BBQ Ribs or Roasted Chicken with corn-on-the-cob, and a side of coleslaw or beans. Plates are $12.
6PM — RED, WHITE, AND WATER BALLOON FIGHT
Kids can grab a balloon and cool down in the hot summer sun with our Red, White, and Water Balloon Fight!
Soda, cookies, and other kid-friendly snacks and drinks will be available inside.
7:30PM — "THE AMERICAN LIGHTBULB," A GLASS TALK AND DEMONSTRATION 
Discover how early glass light bulbs were made and how profoundly this invention impacted American History.
This 20 minute lec-mo will be accompanied by a demonstration of how to make a glass light bulb using borosilicate glass and an oxygen-propane torch.
9PM — GRAB A SEAT AND WATCH THE FIREWORKS
Close to "A" Mountain, Sonoran Glass School is a great place to watch the fireworks. Our west lot will be sectioned off for firework viewing.
Use one of our chairs or bring your own! Enjoy listening to classic American music from brass band ensembles on our PA system.