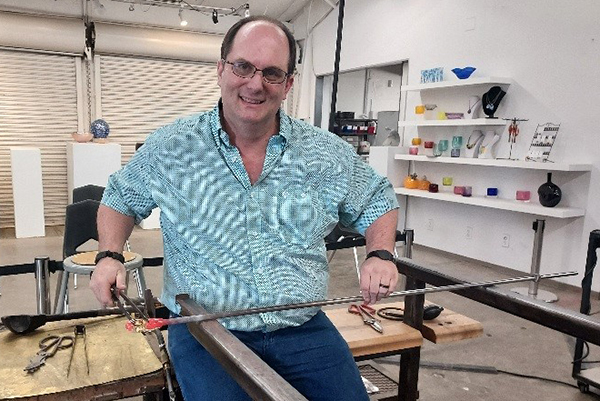 Sonoran Glass School welcomes Dennis Treadwell as its new Director of Development & Marketing. Dennis comes to the school from a non-profit international wildlife conservation organization where he was the Director of Marketing and Communications for eight years. Dennis's more than twenty years' experience in marketing and development includes an extensive background in technical writing, graphic design, website and social media management, campaign design and implementation, strategic planning and analysis as well as extensive work in development including new donor acquisition, donor recognition and stewardship. Dennis will be responsible for helping to identify and drive new revenue sources, promoting the school, and building community awareness in its many programs and events.
Dennis has an extensive background in the fine arts having been a professional sculptor for more than twenty years. His primary medium is cast bronze, but he also sculpts in wood, paper, and fabricated metal. He also has experience working with fine art glass including stained glass, fused and slumped glass, lampworked beads, paperweights and glass blowing: experience he gained collaborating with fellow artists and taking classes and workshops. Dennis owned and operated a retail fine-arts gallery in Seward, Alaska for more than fifteen years.
Dennis's passion for the arts and experience in the business of art in addition to his work in development and marketing will be a great asset to the Sonoran Glass School. We look forward to working with him to help create even more opportunities to inspire people of all ages to discover the wonder of glass art.
To learn more about our other staff members and volunteers, click here.