Saturday
March 7, 2015
Collaboration: 10:00 a.m. – 2:00 p.m.
Demonstration: 4:00 p.m. – 6:00 p.m.
SGS Members: Free
Public: $10 suggested donation
Glass Legend Henry Halem in an Open Studio Collaboration with the SGS Hot Shop Crew
Generations collide on March 7th as American Studio Movement pioneer Henry Halem directs our glassblowing staff on a project and demonstration in our Hot Shop furnace glass studio.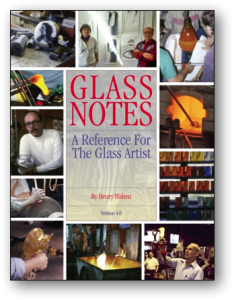 Henry authored the indispensable Glass Notes–a "must have" book for any glass library, artist, or enthusiast.
He will work with the Hot Shop team from 10am-2pm, open to the public and at 4:00 p.m. there will be a proper demo as Henry explains the process, his inspirations and makes a few jokes along the way.
About Henry Halem
Henry Halem starting working in glass in 1968, when studio glass blowing was largely uncharted territory in the United States. He holds a BFA from the Rhode Island School of Design and an MFA from George Washington University and did post graduate work at the University of Wisconsin. Halem came to Kent State University to start their glass program in 1969.
He retired from teaching glass at KSU in 1998 after 29 yrs. He now devotes himself to working full time in his studio as well as trying to lower his golf handicap. Halem, along with a few other artists, founded the Glass Art Society and served as its first president.
In 2008 he received the prestigious "Lifetime Achievement Award" from the Glass Art Society at its annual meeting in Portland, Oregon. Henry is a Fellow of The American Crafts Council and in 1994 Received the Governor's Award from the State of Ohio. In 1998 Halem received the President's Medal for Outstanding Achievement from KSU.
He has exhibited extensively throughout the U.S., Europe and Japan. His work can be found in important major collections in both the private and public sector. In 1997 the Cleveland Museum of Art acquired two of Halem's works which are now included in their permanent collection.
Other major museums where his work is collected include the Corning Museum, Smithsonian Institution, Toledo Museum, Detroit Institute of Art, High Museum of Art in Atlanta, the Philadelphia Museum of Art and internationally at the Hokkaido & Niijima Museums in Japan and the Museum of Decorative Arts in the Czech Republic.