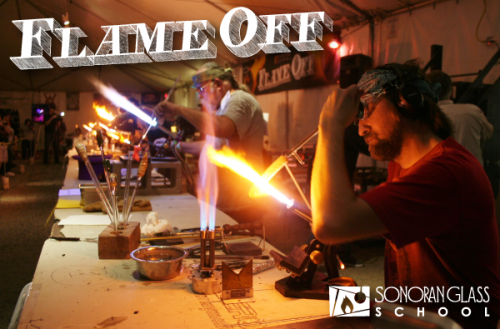 ---
About last year's Flame Off
AND THE PEOPLE'S CHOICE AWARD GOES TO RAVEN COPELAND
At Sonoran Glass School
Friday February 6th, 2015
633 W. 18th Street
7:00-11:00 p.m.
$15
Founded here in Tucson by Tom Philabaum, The Flame Off has grown into a highly anticipated flameworking event and highlight of the gem show. Renowned local and visiting glass artists compete against the clock in front of hundreds of spectators.
Catch the competition live on stage and throughout the SGS campus via several big HD screens showing multiple live camera feeds. Food trucks, music, and beer on tap (with ID) will also be on hand. This is an all ages event.
The 2015 Flame Off is sponsored by

How to purchase tickets
You can buy tickets at the door or online. To pre-purchase your tickets online, and proceed straight to Will Call on the night of the event, visit
www.sonoranglass.org/flameofftickets. Doors open at 6:30 p.m.
The Flame Off is a fundraiser for the 501 c(3) non-profit glass arts educational organization Sonoran Glass School and its programs.
Final Creations
The resulting glass art pieces are spontaneous creations which demonstrate the tremendous skill, under immense pressure, of the competing artists in the glass art medium. It really is like the "Iron Chef" of the torchworking world that offers attendees a chance to get an up-close and personal view of the action.
2015 Competitors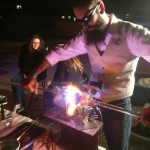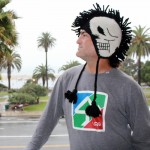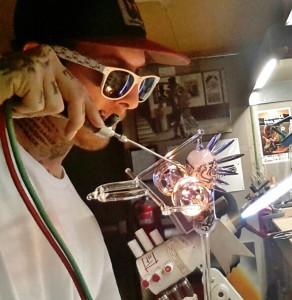 Competition Format
There will be two competition sessions, with up to 10 competitors competing in each session. This year's theme is: Myths (be it ancient, urban, or other).
Session I: 7:00-8:30 p.m.
Session II: 9:00-10:30 p.m.
Session 1:
7:00-8:30 p.m.

Session 2:
9:00-10:30 pm


Brian Jacobson

Lewis Wilson

Jeff Rutherford

Dan Fitzgerald

Paul Kowan

Joshua DeWall

John Ryszka II

Michael Durham

Jack Morris

Ely Andrew

Jonathan Russell

Brodie Lee

Trenton Umeda

Veda Bickley

Steven Tillman

Phillip Bickley

Raven Copeland

Chris Riley

Aaron Abundance

Alex Williamson
Bidding: Live and Online
If you wish to bid on any of the pieces during the event you can do so by getting the attention of one of our clipboard-carrying volunteers. Bidding will extend on our Facebook bidding album starting Saturday evening at 5 p.m.
Judges will decide the 1st, 2nd, 3rd, and 4th place winners. Artists who place in these categories will each receive prizes from our Flame Off Sponsors, including glass art tools, supplies, and gift certificates.
Viewing of Flame Off 2015 Finished Pieces
All Flame Off 2015 final pieces will be available for viewing in the Sonoran Glass School gallery the day after the event on Saturday February 7th, from 10:00 a.m. – 4:00 p.m.
Food Trucks
BBQ Rush, BurgerRito, Cowboy Kettle Corn, Road Running Wood Fired Pizza, and Sonoran Mexican Cuisine.
NOTE TO LAMPWORKERS:
If you'd like to compete in the 2015 Flame Off, fill out the Artist Registration Form. Deadline to register is January 31st, 2015.
The 14th Annual Flame Off is sponsored by:

Proceeds benefit Sonoran Glass School and its Youth Development Program, an award-winning art program serving Tucson schools with little to no budget for art programs (Lumie Award, 2011. Tucson Pima Arts Council). Kids 12 and under are free.